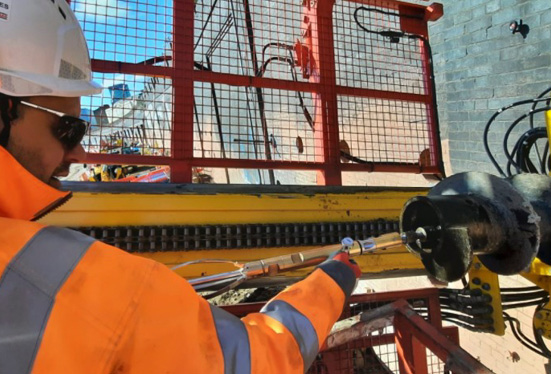 Challenge
Whether conducting Geotechnical Investigation, Grouting (Pre-Grouting), Shaft and Ventilation Drilling, Piling, Ground Anchoring, Geothermal Wells, No Dig Applications (HDD), Micro TBM, Tunneling or Ground Freezing, the demand for precision is higher than ever.
However, the accessibility of proven borehole surveying solutions that fit the various applications and rod types is limited. Often resulting in the use of outdated or poorly adapted technologies from the mining sector to try and get the job done, potentially slowing the productivity on site.
Solution
The Devico range of versatile borehole surveying solutions are specifically suited for a large variety of civil construction drilling applications. Ensuring high quality data and efficient operating procedures for downhole navigation, rig alignment, core orientation and QA/QC data management.
Compatible with a wide range of purpose-built running gear configurations, DeviGyro is the ideal solution for monitoring borehole deviation and measuring definitive borehole position.
The ultra-portable, north seeking DeviAligner has set the new standard for fast, precise rig alignment and collar pick up. Significantly increasing accuracy, efficiency and productivity, this technology is especially beneficial in the confined and underground drilling environments, replacing the need for traditional rig alignment and collar pick up methods.
The onsite processing, transfer and management of borehole survey data is more streamlined than ever with DeviCloud. Providing each defined (and unlimited) user group with immediate access to surveys, as soon as they are uploaded directly from the handheld device at the drill site.
Supporting two-way communication between site and office, DeviCloud also makes it possible to share and sync drill plans directly to the handheld device at the drill site, reducing the risk of miscommunication.
See our full range of civil borehole surveying solutions below.
Benefits
Quick set up time
At-rig QA/QC control
Fast, precise rig alignment
High speed, continuous surveying
Repeatable precision at any angle
User-friendly, intuitive operating software
Supported hole sizes: Ø28mm to Ø400mm
Quick, precious rig alignment & collar pick up
Ultra-versatile, suited to a wide range of applications.
Seamless data transfer between site and office
Simple onsite calibration check procedures
Comprehensive QA Analysis & Reporting
Scandinavian made – Robust and reliable
Available for purchase or rental