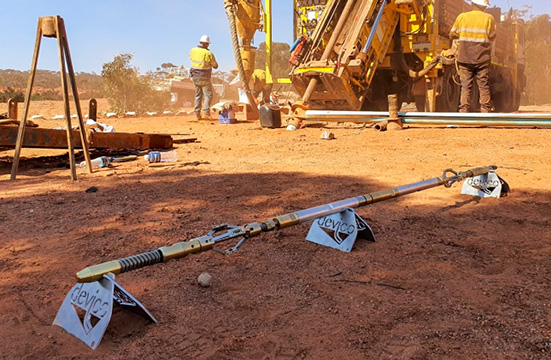 Challenge
Although RC drilling is more cost effective and faster than diamond core drilling, it is prone to more deviation. As of today, it is not possible to control the natural deviation in RC drilling. Therefore, to increase the chances of drilling on target it is important to accurately position the drill rig over each planned collar and complete down hole navigation surveys to monitor deviation and record the actual drill hole position.
With the fast penetration rates that come with RC drilling, the drill crews generally work fast. So, it is optimal for them to complete all rig set ups and surveys quickly and precisely to minimize their impact on drilling productivity and workflow, and here lies the challenge.
Solution
The DeviAligner enables fast, precise rig set up over each planned collar position. Reducing set up time and ensuring all drill holes are collared correctly to plan.
The DeviGyro enables fast, precise in-rod surveying for monitoring the drill hole deviation and recording EOH (end of hole) survey data. Ensuring minimal downtime for the drill crew and providing definitive survey results of the entire drill hole.
The DeviShot is a more affordable option for single or multi-shot surveying to monitor the drill hole at intervals and or to record the EOH (end of hole) position. It can be used in-rod or open hole.
The onsite processing, transfer and management of borehole survey data is more streamlined than ever with DeviCloud. Supporting two-way communication between site and office, reducing the risk of miscommunication.
Benefits
Quick, accurate rig set up over each planned collar.
Recording precise collar position for each drill hole, once collared.
Programable to read live in True North or directly to Mine-Grid.
Recording precise, comprehensive, and definitive downhole navigational data for each drill hole, referenced to North Seeking positional data.
Secure, seamless, two-way data transfer between site and office.
Ability to upload or download drill plans, and to send and receive survey data, directly to and from the android device on site, and the geologists' and supervisors' desktops.
Quick and easy at-rig processing and QA analysis of survey data. At-rig QAQC so a decision can be made before you move the drill rig.
Straightforward onsite calibration check procedures for ensuring survey equipment is performing optimally.