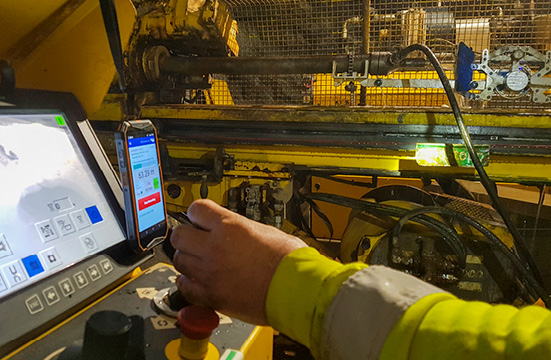 Challenge
Each type of drilling has its own purpose and requirement. For blasting and pre-injection holes it is important that the path of the holes is known to secure a successful blasting or injection.
Freeze hole drilling requires multiple holes to drilled in a straight path next to each other, in order to secure the formation is evenly and properly frozen.
The path of probe and core holes is also important to know to understand to know exactly where the data was collected.
Solution
Precise drill rig alignment and downhole navigation surveying is required to know the deviation and exact location of the drill hole.
For blast-holes, the survey will help determine the amount of explosive needed for an optimal performed blasting procedure, while surveying pre-injection holes will reveal if the holes are positioned such that a sufficient grout cover will be achieved.
For other types of holes deviation data can help determine if a borehole needs to be re-drilled or directionally adjusted.
The Devico range of versatile borehole surveying solutions – such as the DeviAligner and DeviGyro – are specifically suited for a large variety of civil construction drilling applications. Ensuring high quality data and efficient operating procedures for both downhole navigation and rig alignment.
Benefits
Quick set up time
At-rig QA/QC control
Fast, precise rig alignment
High speed, continuous surveying
Repeatable precision at any angle
User-friendly, intuitive operating software
Supported hole sizes: Ø28mm to Ø400mm
Quick, precious rig alignment & collar pick up
Ultra-versatile, suited to a wide range of applications.
Seamless data transfer between site and office
Simple onsite calibration check procedures
Comprehensive QA Analysis & Reporting
Scandinavian made – Robust and reliable
Available for purchase or rental